An emotion that holds many people back in life is the fear of leaving their comfort zone.
Our comfort zone is a behavioural space where our activities and behaviours fit a routine and pattern that minimises risk. It's those comfortable, safe routines that we're accustomed to doing, that we do without thinking, be it at home, or in the workplace.
"I promise you this, if you dare to try something that scares you, the sky will not cave in. Even if you fail."  
~ Sulaiman Ali
---
Our comfort zone provides us with a state of mental security. When we're in this zone, we get obvious benefits such as an increased sense of calm, happiness, and safety plus lower anxiety and reduced stress.
For many, this false sense of security eventually leads to complacency and inaction. For some people, their comfort zone can become a self-created prison where the bars consists of the collections of cant's, shouldn'ts, must nots, and other limiting beliefs and self imposed rules.
---
Our comfort zone is potentially the greatest enemy of achievement in our lives.
If you stay put in the place where nothing changes, nothing is ventured, then you may stagnate. Although life is relatively fulfilling inside the place where you feel safest and most in control, it can become pretty mundane, and even become distressing, dissatisfying and lead to disillusionment. Staying on that well-worn path, instead of the one less travelled, leads to boredom and a relatively unfulfilled way of living.
Just taking that step outside of your predictable behaviour will automatically make your heart beat a little faster, your palms may sweat, and you may experience a ripple of fear.
However, that uneasy feeling, that momentary fit of the jitters, is often accompanied by excitement and the anticipation of experiencing something brand-new. You feel a little more alive than normal, and that's usually a good thing.
Intentionally getting outside your comfort zone is one of the best ways to learn, grow, and be more fulfilled.
---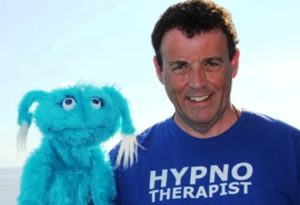 Stepping out of my comfort zone ...
Five years ago I made a conscious decision to step outside my comfort zone. I wanted to be more comfortable and relaxed speaking and presenting in public. So I enrolled for improvisation classes with the Wellington Improvisers Troupe (WIT). I thought, what could be more anxiety producing and yet confidence building than walking out onto a stage in front of an audience without a script or any idea what is going to happen next. Now that would be a step into the unknown!
It was one of the best decisions I've ever made and my comfort zone has been greatly expanded as a result. And this week I'm stepping a little further outside my comfort zone when I appear in my first improvised puppet show - Late Night Puppets (opening Wednesday 28th at 6:30pm as part of the Wellington Fringe Festival ).
---
Pick the right challenge and to just take baby steps at first
It's true that stepping into the unknown and facing the pressure of a new challenge can be paralysing for some and overwhelming for many. That's why it's important to pick the right challenge and to just take baby steps at first.
As your confidence and skills grow you can build on these changes until you're able to step even further into the unknown.
---
What Next?

If you need help stepping outside your comfort zone, or in setting yourself challenges that will stretch you healthily enough to be rewarding, but that are also realistic and achievable then get in touch. You can call me on 021 056 8389, email tony@tycoaching.nz or use the Book Now button.

"When you change your mind you change your life."
Go well
Tony

Tony helps individuals to harness the power of their mind to achieve success and well-being in life, work and business. Tony's particular area of expertise lies in helping people to 'change their minds' so they overcome limiting beliefs and unhelpful habits and gain freedom from worry, anxiety and stress. Tony's solution focused approach to coaching uses a range of techniques drawn from the fields of co-active coaching, hypnosis, positive psychology and neuro-linguistic programming (NLP).