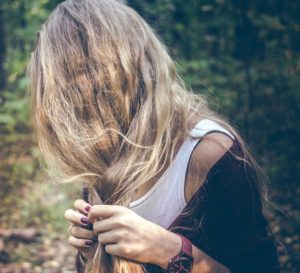 SELF-HYPNOSIS FOR TRICHOTILLOMANIA [COMPULSIVE HAIR PULLING] WORKSHOP
Is compulsive hair pulling significantly affecting the quality of your life?
If you answered 'Yes!' you're not alone, some experts estimate that between 2 and 5 per cent of people suffer from it.
People who compulsively pull their hair (aka trichotillomania or Trich for short) can spend decades living with distress, shame, and damage to their body. It can lead to fear of intimacy, missed job interviews, isolation, and much more. Hours are lost each day pulling and the pressure of keeping the condition a secret – hiding the physical effects with makeup, wigs and layers of clothing can be exhausting. In short Trich imposes a huge emotional and social toll on sufferers.
To date a universal cure for Trich has proved elusive and you may already have tried one or more of the many therapeutic approaches available. One approach that is proving useful, either as a stand-alone treatment, or in conjunction with other therapy, is hypnosis and in particular self-hypnosis (where you guide yourself into hypnosis). For many with Trich, self-hypnosis is proving to be a valuable addition to their "trich toolbox."
If you have Trich, and you are looking for a way to better manage your Trich, then this one day workshop is designed for you. The valuable knowledge and skills you'll gain will change your life.
Self-Hypnosis
Self-hypnosis is a fantastic self-development tool. It can also be used for controlling pain, accelerated healing, letting go of limiting behaviours and a number of other applications. This workshop will provide you with a structured method of taking yourself into hypnosis (informed by scientific research).
Everyone who attends the workshop and approaches the activities with a progressive, open mind can experience hypnosis.
Benefits of this 1 day workshop
This workshop provides an opportunity for you to learn and apply self-hypnosis in order to gain more control over your Trich.
By the end of the workshop participants will be able to:
explain what hypnosis is
experience self-hypnosis
use self-hypnosis with a range of strategies and techniques designed to help you better manage your Trich
experience a greater sense of control
cope better with the emotional and physical symptoms of Trich
Who should attend this workshop?
This workshop is aimed at people (over the age of 16) who want to reduce the frequency and impact of compulsive hair pulling. 
This workshop will benefit people who are:
experiencing Trich.
parents of children experiencing Trich
Please note: places are limited.
Workshop content
The workshop is designed and facilitated by Tony Yuile. The content is based on current research and practice. A workbook is provided.
Learning Objectives:
Part 1
Understanding Trichotillomania
Part 2
Learn self-hypnosis
Experience self-hypnosis
Apply self-hypnosis to better control Trich behaviour and symptoms
Where and When?
Date: TBC
Duration: 9am - 4:30pm
Venue: Home of Compassion Island Bay
Your Investment
The price for the workshop is $247 (including GST).
Tea and coffee provided but bring your lunch, pen and paper.
To reserve your place click here.
For more information about whether this workshop is right for you, contact Tony on 021 056 8389 or email: tony@tycoaching.nz