Our moment to moment decisions and actions are almost ALWAYS driven by our need to meet one or more of our Emotional Needs.
This month I have an article in NZphotographer magazine – 'How Photography can contribute to meeting each of our Emotional Needs' (Page 14).
In the article I explain that as well as the obvious 'basic needs' for water, food, and shelter, humans have a set of 9 Emotional Needs, which are not so obvious but are just as essential to our wellbeing and happiness. In fact, our moment to moment decisions and actions are almost ALWAYS driven by our need to meet one or more of our Emotional Needs. When our Emotional Needs are met in balance we are less likely to suffer from mental health issues such as stress, anxiety and depression.
Our Emotional Needs are not well understood
Unfortunately, all too often in modern western culture, our Emotional Needs are not well understood or treated with the attention they deserve, and this is reflected in the current high levels of stress, anxiety, and depression within the population. The good news is, that once we understand our Emotional Needs, and how well we are currently meeting them, we can take action.
How employers can help employees de-stress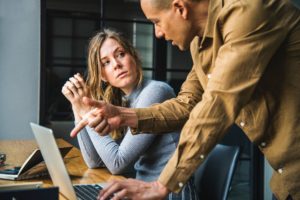 Writing the NZphotographer article prompted me to think about 'work related stress' and some of the ways in which an employer can help meet the Emotional Needs of individual employees, thereby contributing to their mental and physical well-being.
By actively engaging in activities and practices that help and support individuals to meet their Emotional Needs, an organisation benefits by having healthier, happier and more productive employees.
Plus, with an understanding the Emotional Needs model, an employer can focus its limited resources on where they are most needed, to make their employees' experience of work as rewarding, engaging, and fulfilling as possible, and so enhance their employees' overall wellbeing.
Below I've listed 5 of the 9 Emotional Needs and have provided some examples of how an employer might help individual employees meet those Emotional Needs. The examples are not intended to present a complete picture of what an organisation can do, but to illustrate what's possible.
SECURITY: We need a safe place, an environment that enables us to lead our lives without experiencing undue fear and that allows us to develop our potential.
Reduce uncertainty - communicate with employees
Open communication is critical in any organisation. Keeping employees up to date regarding changes, expectations and their own performance not only keeps them on track but also reduces feelings of uncertainty (which our mind perceives as a threat) – after all there is nothing worse than being kept in the dark.
Identify and address negative and potentially damaging behaviours
The organisation needs to be proactive in addressing conflict and dealing with unacceptable behaviour such as bullying and harassment.
ATTENTION: We need to receive attention from others and also give them attention in return.
Engage more with individual employees
Often this means leaders and managers simply smiling more often, chatting with employees about family or hobbies, having a laugh with them.
Recognize Individual and Group Achievements (see Sense of Achievement below)
ACHIEVEMENT:  We need to feel challenged and stimulated by our environment, to have opportunity to exercise creativity and have a sense that we are accomplishing things of value.
Recognize Achievements
Recognize employees individually for their successes. People not only like to know that they've done well but they want their colleagues to know it too. Likewise, they want to show support and gratitude when their colleagues succeed. An organisation might perhaps create an office newsletter where achievements can be announced on a weekly or monthly basis.
Reduce pressure
When an individual believes they are unable (i.e they lack the resources or ability) to cope with the accumulated demands (work and non-work) placed on them, they are likely to experience stress.
Don't give people more tasks than they can handle and make sure assignments are as clear as possible and that the employee understands the task.
Discourage perfectionism
It may seem counter intuitive, but employees need to know that it's okay to make mistakes.
CONTROL: In order to feel fulfilled, we need to feel like we have the power to exist autonomously and direct our own lives.
Provide employees with choices about the way they perform their job
Individuals need to have some choice or influence about how they perform their job, for example, the way work is done or when to take a break.
Allow flexitime and remote working
A major threat to Emotional Needs, particularly for women, is stringent working hours. Allowing employees to work remotely, or even on a flexi-time scheme provides them with a greater sense of autonomy. You are saying to your employees, "I trust you," by allowing them to manage their own time. However, it's important to make sure that, as the employer, you manage this sort of flexibility with open communication and by outlining clear expectations and parameters.
Upskill employees
When an individual has the skills and resources they believe they need to do their job, they feel a greater sense of control. Skills that individuals may benefit from developing include time management, delegation, conflict management, public speaking, problem solving.
PRIVACY: We need to obtain privacy when we need to. Our mental and emotional well-being requires that we have time and space enough to reflect on and learn from our experiences.
Provide a 'chill out' space in the office
Sometimes people need 15 minutes to relax, re-group and disengage from technology and general work related interactions. Providing a quiet room, or a chill out zone where employees can spend 15 minutes with their thoughts can dramatically help them meet their need for privacy. After taking a short break free from distractions, people often feel refreshed and re-energized to tackle the rest of the day. It's also important, to communicate to employees that it's okay to get up and walk around the office or take a walk outside when they need a break from work.
Every one of us is a unique human being ...
.... with our own preferred balance of Emotional Needs. This means that one-size fits all stress solutions offered by organisations as part of workplace well-being programmes don't always deliver the results they are expected to.
As an employer, tailoring your organisation's employee stress management strategy to specifically target the key challenges that each individual employee is experiencing in meeting their Emotional Needs, can help reduce the negative consequences associated with having a workforce that is experiencing stress, such as - high staff turnover, presenteeism, absenteeism, and low productivity. This approach requires more effort than a one-size fits all approach but the return on investment can be substantial.
What Next?
Helping people to regain control over their stress and anxiety is my passion. If you'd like to explore how I can help you, or your employees, regain control over your/their stress let's have a chat. You can contact me now on 021 056 8389 or email me at tony@tycoaching.nz or use the Book Now button.
Wishing you a happy, calm and productive week in your workplace.
Go well
Tony
REMEMBER - "When you change your mind you change your life."

---
Tony helps individuals to harness the power of their mind to achieve success and well-being in life, work and business. Tony's particular area of expertise lies in helping people to 'change their minds' so they gain freedom from worry, anxiety and stress, overcome limiting beliefs and unhelpful habits. Tony's solution focused approach to coaching uses a range of techniques drawn from the fields of solution focused coaching, neuroscience, positive psychology and clinical hypnosis.