10 October 2018 was World Mental Health Day. This year's theme is young people and mental health in a changing world and it recognises that children and young adults are facing a crisis in mental health with fast-rising rates of anxiety, self-harm and depression.
The World Health Organisation (WHO) says half of all mental illness begins by the age of 14 – "Adolescence and the early years of adulthood are a time of life when many changes occur, for example changing schools, leaving home, and starting university or a new job. For many, these are exciting times. They can also be times of stress and apprehension, however. In some cases, if not recognized and managed, these feelings can lead to mental illness."
The WHO goes on to say that often this mental illness goes undetected and untreated.
Fortunately, there's a growing recognition of the importance of helping young people build mental resilience, from the earliest ages, in order to cope with the challenges of today's world. I believe one of the keys to achieving this, is to provide young people with an understanding of how mental health issues such as anxiety and depression, are created and can be avoided.
---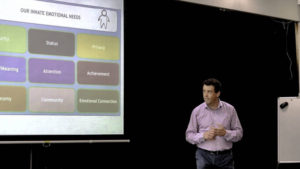 Earlier this week, thanks to Ana Lyubich CEO of Excio, I had the opportunity to share with a group of keen young photographers, how photography can contribute towards helping them, and other people, build greater mental resilience.
The session took place in the Tree House at the Botanic Gardens and afterwards we all joined professional photographer Richard Young in the gardens for a hands-on lesson on how to take great photos. It was great to witness the participants experiencing some of the benefits I'd spoken about earlier, particularly through a sense of achievement and community.
My talk was built around the Human Givens Institute's Emotional Needs model which is a key component of my solution focused approach to helping people overcome stress, anxiety and depression.
The Model states that people who are meeting their Emotional Needs in balance are less likely to suffer mental health problems such as anxiety, anger, depression etc. So to avoid mental health problems we need to be aware of the current status of our Emotional Needs and take proactive action to ensure that they are being met to our satisfaction.
In my talk I covered each of our nine Emotional Needs, and gave examples of how photography can contribute to meeting each of those Needs. Here's one example - the Need for Achievement.
ACHIEVEMENT: In order to maintain our self-esteem, we need to have a sense that we are accomplishing things of value.
Photography enables us to recognise, and use, our existing competencies, skills and resources. It also provides us with an opportunity to develop new skills and knowledge. Every photo we take increases our skill and capabilities as a photographer and in general.
Photography provides an opportunity for us to extend ourselves beyond our comfort zone. We can be creative. Every photograph we take is unique. It's never existed before.
We can set, and achieve, ever more challenging goals for ourselves (e.g. take a photo a day, get a photo published in the local paper, win a prize etc). And when we achieve our goal(s) we get a wonderful 'feel-good' sense of achievement.
There are no limits to what we can achieve through our photography. We can entertain, educate, and influence people. We can even change the world.
Sharing our photographs and getting positive feedback from others builds our confidence, self-belief, and self-worth.
To learn more about how photography can help contribute to the satisfaction of our Emotional Needs simply download this PDF.
Photography is a great way by which we can proactively contribute to ensuring we meet our Emotional Needs. So grab your camera or phone and get snapping!
---
What Next?
If you'd like to explore how well you are currently meeting your Emotional Needs and/or how to better meet them so that you avoid distress, contact me on 021 056 8389, email tony@tycoaching.nz or use the Book Now button.
Wishing you a safe, happy week.
Go well
Tony
REMEMBER - "When you change your mind you change your life."

---
Tony helps individuals to harness the power of their mind to achieve success and well-being in life, work and business. Tony's particular area of expertise lies in helping people to 'change their minds' so they gain freedom from worry, anxiety and stress, overcome limiting beliefs and unhelpful habits. Tony's solution focused approach to coaching uses a range of techniques drawn from the fields of solution focused coaching, neuroscience, positive psychology and clinical hypnosis.